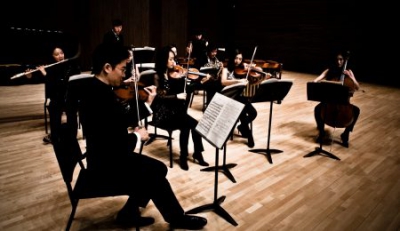 Music After 2010 and Ensembles...
The idea is to present works that are five years old and younger. The time has come to shift the attention of Melos-Ethos from works ignored during the Iron Curtain era to current developments in contemporary music.
Hence the second red line of programming. The dominance of ensemble concerts issues from the developments of the 1960s and 1970s when composers turned away form symphonic orchestras towards flexible specialised ensembles offering instrumental variety and top musicians. The trend is still visible today. The festival will present the best domestic ensembles – the residential Melos Ethos Ensemble, Quasars Ensemble, Mucha Quartet, and, perhaps, surprisingly the period music ensemble Solamente naturali. Interesting international guests include Het Collectief or Ensemble TIMF from South Korea.
Another feature of the programme (which came about spontaneously) is the music of composers from Asia, in particular of Toshio Hosokawa. Yet another evident trend in the music of last decades...
However, the strongest presence in this year's programme are Slovak composers of a wide range of generations and aesthetic orientations. The majority of works are commissioned by the festival; this creates the opportunity to hear them in context of the most recent music coming from abroad and to establish them in repertoires of international ensembles.
Naturally, there will be more to the festival than ensembles. The programme features multimedia projects, stage works performed in the Slovak National Theatre, and a series of fringe events.