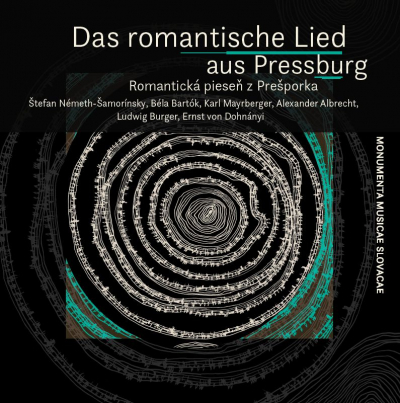 New CD - Das romantische Lied aus Pressburg
Tomáš Šelc (bass-baritone) and Peter Pažický (piano) on the new CD Das romantische Lied aus Pressburg present works of composers, lifes of which are connected to Bratislava:
Štefan Németh-Šamorínsky (1896 – 1975): Drei Lieder
Béla Bartók (1881 – 1945): Päť slovenských ľudových piesní, 1907, 1916
Karl Mayrberger (1828 – 1881): Zwei Lieder Op. 4, Nr. 1
Alexander Albrecht (1885 – 1958): Drei Lieder
Ludwig Burger (1850 – 1936): Lied (aus Liedercyklus Op. 12)
Ernst von Dohnányi (1877 – 1960): Sechs Gedichte, Op. 14, 1905 – 1906
Tomáš Šelc graduated of opera singing in the class of Prof. Peter Mikuláš at University of Music Arts in Bratislava - Slovakia. He focuses on the interpretation of spiritual music, and songs as well as operetta and opera. As a soloist he cooperated with Kanazawa Symphony Orchestra (Japan), Johannesbourg Symphony Orchestra (SAR), Südwestdeutsche Philharmonie Konstanz (Germany), Bamberger Symphoniker (Germany), Clemencic Consort (Austria), Elbipolis Baroque Orchestra (Germany) and others. As a soloist he performed at several major festivals: Johannesbourg International Mozart Festival (SAR), Festival International de Santander (Spain), Ludwig van Beethoven Easter Festival (Poland), Prague Spring (Czech Republic), Wratislavia Cantans (Poland), Festival Konvergencie (Slovakia), Resonanzen (Austria), Oude Muziek Festival Utrecht (Nederlands), Royal Chapel of Palace of Versailles (France) and others.
During his career he was awarded in huge number of contests (International Singers' Contest of Imrich Godin, Singers' Contest of Antonín Dvořák, Singers' Contest of Slovak Conservatories, International Singers' Contest of Spiritual and Concert in Kroměříž., International Singers's Contest of Mikuláš Schneider-Trnavský in Slovakia, International Singer' Contest of G. F. Händel in the Hungarian Eger and others. He has participated in many CD recordings. From the latest can be mentioned Jan Dismas Zelenka – Missa ZVW33 (conductor Václav Luks), Antonín Rejcha – Requiem (conductor Zdenek Klauda) and Cantatas of Jan Levoslav Bella (conductor Andrew Parrott) – publishing Slovak Music centre.
Peter Pažický studied at the High School of Performing Arts in Bratislava in the class of prof. Marian Lapšanský, with whom he also completed his doctoral studies. He attended performance classes with Halina Czerny-Stefańska, Eugene Indjić and Lazar Berman. A two-time winner of the Competition for Slovak Conservatory Students, he also won the Smetana Competition in Hradec Kralove (CZ), and was a three-time winner of the Chopin Competition in Marianske Lazne (CZ). At the Ministry of Education Interpretation Competition in Banská Bystrica, he won the prize for best interpretation of the sonatas of W. A. Mozart. And at the Second International J. N. Hummel Competition, he won the Slovak Music Fund prize for the best Slovak participant. Significant part of his art profil was joined wit with the pianist Aleš Solárik in piano duo colaboration.
Peter Pažický has performed with the State Chamber Orchestra of Žilina, the Slovak Radio Orchestra, the Austrian Youth Philharmonic, the Prague Chamber Orchestra, the Karlovy Vary Symphony Orchestra, the Bohdan Warchal Chamber Orchestra in Bratislava and the State Philharmonic in Košice. He has given recitals at home and abroad, and recorded for Slovak Radio, Unison Records, the Slovak Music Fund, Nusic Center and Pavlik Records, where he realized CD with complete piano works od Jan Levoslav Bella.