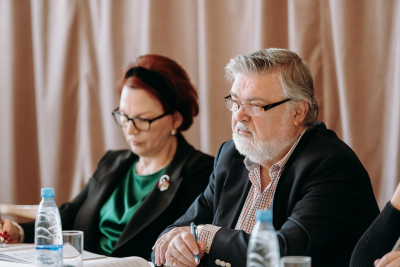 Results - participants to the III. round
In the second round, which took place in Music Centre on 24th and 25th of May 2021, the expert jury composed of the chairwoman prof. Eva Blahová, Peter Dvorský, Daniel Čapkovič and Peter Valentovič listened to all submitted recordings.
The artistic performance was assessed by jurors only on the basis of quality of sent video or audio recordings.
Results - list of advancing participants to III. round:
I. CATEGORY WOMEN
| | | |
| --- | --- | --- |
| No. | Name | Country/ Nationality |
| 1 | Hlúšková Klára | Slovak Republic |
| 2 | Hrkać Nikolina | Croatia |
| 3 | Krížová Nina | Slovak Republic |
| 4 | Krovatyeva Ekaterina | Russia |
| 5 | Noskiewicz Dominika | Poland |
| 6 | Plonka Natalia | Poland |
| 7 | Poláková Zuzana | Slovak Republic |
| 8 | Salamońska Sylwia | Poland |
| 9 | Zhigalkina Margarita | Russia |
I. CATEGORY MEN
| | | |
| --- | --- | --- |
| No. | Name | Country/ Nationality |
| 1 | Filipiak Martin | Poland |
| 2 | Napierala Stanislaw | Poland |
| 3 | Nekjak Davor | Croatia |
| 4 | Rubacha Grzegorz | Poland |
| 5 | Vancel Andrej | Slovak Republic |
II. CATEGORY WOMEN
| | | |
| --- | --- | --- |
| No. | Name | Country/ Nationality |
| 1 | Auguštan Darija | Croatia |
| 2 | Dutkowska Kamila | Poland |
| 3 | Hajzušová Tatiana | Slovak Republic |
| 4 | Huptas Marta | Poland |
| 5 | Kubištelová Michaela | Slovak Republic |
| 6 | Kukhar Nataliia | Ukraine |
| 7 | Lopocz Ewa | Poland |
| 8 | Petrova Zoya | Poland |
| 9 | Podolak Karoline | Poland / Canada |
| 10 | Rukavina Emilia | Croatia |
| 11 | Skarková Nela | Czech Republic |
| 12 | Swianiewicz Teresa | Poland |
| 13 | Ziolkowska Sylwia | Poland |
II. CATEGORY MEN
| | | |
| --- | --- | --- |
| No. | Name | Country/ Nationality |
| 1 | Bogachov Denys-Daniil | Ukraine |
| 2 | Červínek Robin | Czech Republic |
| 3 | Dziwisz Tomasz | Poland |
| 4 | Klisović Franko | Croatia |
| 5 | Morháč Martin | Slovak Republic |