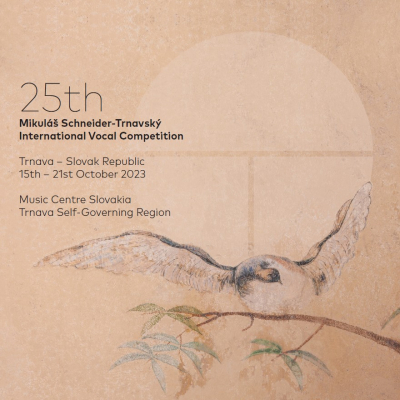 Application deadline extended
We would like to remind you that the deadline for entries to the 25th edition of Mikuláš Schneider-Trnavský International Vocal Competition is approaching.
The competition, whose mission is to search for young talented performers of the concert vocal art, will take place on 15 - 21 October 2023 at the Ján Palárik Theatre in Trnava. The competition will take place over six days in two categories determined by the difficulty of the repertoire performed. Attractive financial prizes and also several special prizes are offered to three most successful participants in each category of the competition. 
Deadline for sending the application forms is extended to August 15, 2023.
Those interested in entering the competition will find all necessary information on the event website:
https://hc.sk/en/medzinarodna-spevacka-sutaz-mikulasa-schneidera-trnavskeho/podmienky-sutaze