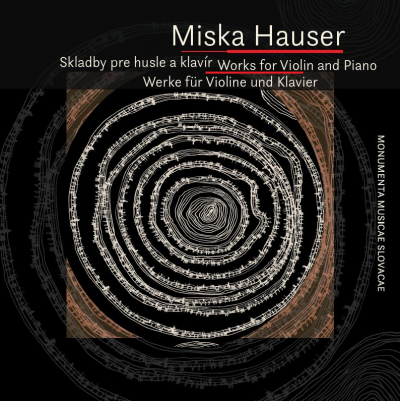 CD Miska Hauser - Works for Violin and Piano
New CD released in 2020 introduces the work of violinist and composer Miska Hauser from Pressburg. CD contains sixteen remarkable compositions for violin and piano. Works are interpreted by violinist Juraj Tomka and pianist Maroš Klátik.
The Jewish Encyclopedia includes an entry on Miska (Michael) Hauser, Hungarian violin virtuoso and composer (8. 3. 1820, Pressburg – 8. 12. 1887, Vienna). Miska Hauser's father was a violinist and allegedly a friend of Beethoven's, and he inspired his son with a love of violin playing and taught him the rudiments. After a concert by the 12-year-old Miska in the Pressburg Theatre, Professor Joseph Böhm (1795 – 1876) took charge of him. Böhm was the first professor of violin playing at the Vienna Conservatory (1819–1848); his pupils included, among others, Joseph Joachim, Heinrich Wilhelm Ernst, Jakob Dont, Eduard Reményi and Georg Hellmesberger sen.
By the end of the decade Miska Hauser was already a fully-trained artist and his father took him on his first concert tour, which extended to eight years. Miska's performance art was heard by audiences in many cities in Germany, Denmark, Sweden, Norway, Finland and Russia. At an early age he acquired renown as a noteworthy young violin virtuoso. In the summer of 1847 he returned to Pressburg and continued his studies of composition.
The political turbulence of the years 1848 – 1849 spoiled the success of a further European tour, and so in 1850 Hauser departed for England and thence to the USA. In 1858 Miska Hauser commenced his return home, to Europe. On his journey back he held concerts in Ceylon, India, Egypt, Malta and Marseille. During the 1858 – 1859 season he appeared in the major cities of the Austro-Hungarian monarchy. After 1860 he went on his travels again, and on this occasion he held a concert at the court of the Turkish sultan Abdul Meddzhid in Constantinople and another at the Italian Royal Court with Viktor Emannuel II. Subsequently there were concert successes in Paris and Berlin. The books of reference date his final public appearance to 1874 (in Köln). Hauser's art introduced the world to the Viennese violin school.