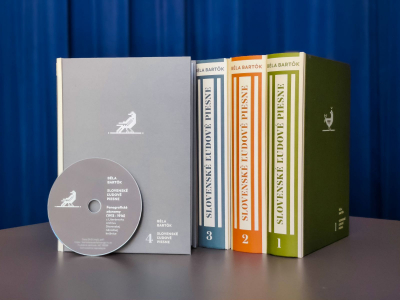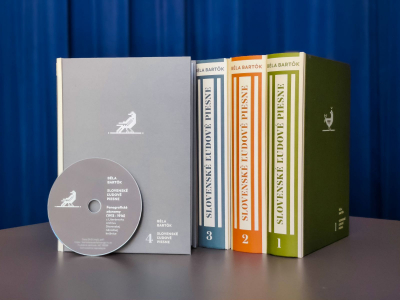 Autor:

Béla Bartók

Category:

BOOK

ISBN:

978-80-89427-44-4

Published:

2022

Number of pages:

2693
Price incl. VAT:

€89,00

Price without VAT:

€80.91
Free shipping

Stock status:
i
BÉLA BARTÓK SLOVAK FOLK SONGS I., II., III. and IV. volume + sound DVD with restored phonographic records from the Literary Archive of the SNK.
Editors: Alica Elscheková, Oskár Elschek
The complete edition of Slovak Folk Songs by Béla Bartók in four volumes aims to conclude a nearly century-long process of preparation, editing, and complete publication of one of the largest individual collections of Slovak folk songs in history, created by ethnomusicologist and composer Béla Bartók.
Béla Bartók's collection of Slovak folk songs is the result of twelve years of collecting work carried out by the ethnomusicologist and composer between 1906 and 1918, mainly in the Nitrian, Hontian, Pohron, and Podpolianske regions. He managed to record 3,078 melodies, transcribed 145 songs from Márton Vikár's phonograms from Považie, and received other recordings from Zoltán Kodály and Anton Baník. After systematizing and preparing for editing in three volumes (in 1922, 1924, and 1928), Bartók handed the collection over to Matica slovenská and tried to publish it. Due to technical problems, disagreements with the editorial board, and finally, worsening socio-political situation, which led Bartók to leave Europe in 1940, the collection was not published during his lifetime.
The first, second, and third volumes were published successively in 1959, 1970, and 2007 under the editorial leadership of Alice and Oskar Elschek, who also prepared the final fourth volume, released in the first edition in 2022. The first three volumes contain all the recordings of folk melodies of this monumental collection, and the fourth volume contains previously unpublished song lyrics, registers, lists, accompanying texts, and other supplementary materials. The appendix to the fourth volume is a sound DVD with restored phonographic records from the Literary Archive of the SNK, also available in electronic format.
The project is implemented in cooperation with VEDA, the publishing house of the Slovak Academy of Sciences, the Society for Traditional Music Pro Musica, and the Slovak National Library.
The title is also available as an e-book in individual volumes at these links: