Mikuláš Schneider-Trnavský International Vocal Competition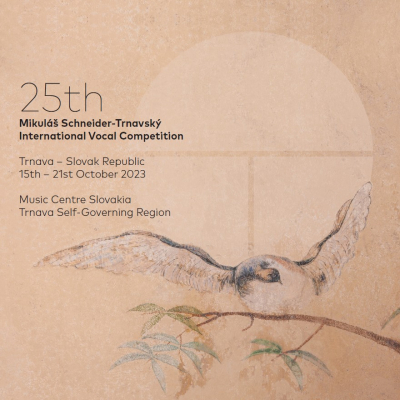 Music Centre Slovakia announces 25th edition of Mikuláš Schneider-Trnavský International Vocal Competition. The competition will take place on 15 - 21 October 2023 at the Ján Palárik Theatre in Trnava.
The mission of the most important Slovak vocal competition is searching for young talented performers of concert vocal art, stimulating their further artistic growth, promoting of concert vocal production - with attention to works by Mikuláš Schneider-Trnavský and selecting of participants for other international singing competitions.
The competition will take place over six days in two categories determined by the difficulty of the repertoire performed. The chairwoman of the international jury is prof. Eva Blahová (Slovakia).  Other members of the jury are: Gabriela Beňačková (Czech Republic), Wiktor Bockman (Switzerland), Daniel Čapkovič (Slovakia), Peter Dvorský (Slovakia), Ariane Hollaender-Calix (Austria), Guy Montavon (Germany), Tadeusz Pszonka (Poland) and Martina Zadro (Croatia). 
Attractive financial prizes are offered to three most successful participants in each category of the competition. There will also be several special prizes awarded, such as the Chairman of the Trnava Region Award for young talent up to 21 years, the Dr. Janko Blaha Award for a promising tenor singer, the Maria Kišoňová-Hubová Award for the best performance of the "Ružičky" song and many others.
Those interested in entering the competition will find all necessary information on the event website:
https://hc.sk/en/medzinarodna-spevacka-sutaz-mikulasa-schneidera-trnavskeho/podmienky-sutaze
Deadline for sending the application forms is July 15, 2023.
The winners of the 24th edition of the competition.
Updated: 04. 07. 2023