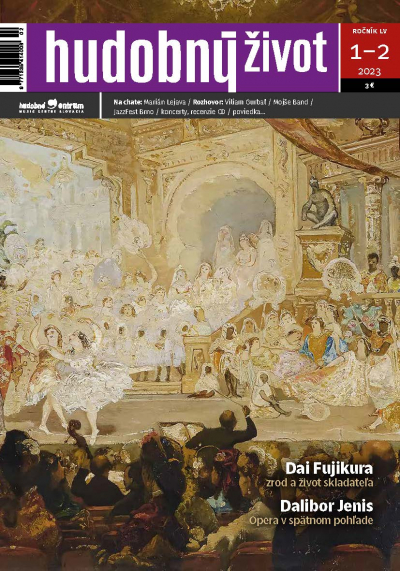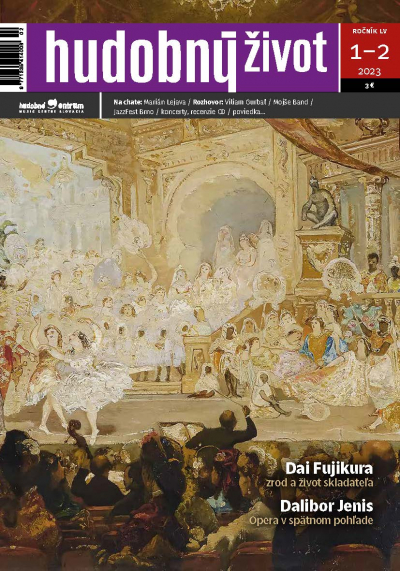 Autor:

rôzni

Category:

ISBN:

13 35-41 40

Published:

2023

Number of pages:

60
Price incl. VAT:

€3,00

Price without VAT:

€2.5
Doručenie Slovenskou poštou zdarma!

Stock status:
i


Baritone Dalibor Jenis on the circumstances surrounding his departure from the Slovak National Theatre Opera


Dai Fujikura on the birth of a composer and life as a freelance artist


Michal Paľko on Mojše Band and making Jewish music accessible


At the cottage: Ronald Šebesta and Marián Lejava


Vilém Spilka on JazzFest Brno


Viliam Gurbaľ on the joys of sacred music in


Jazz laboratory


A musical story by Vanda Rozenbergová 


Concerts, opera performances, CD and book reviews...


The first issue of the year features six interviews that provide insights into the bright and darker shades of the musical world. Japanese-British composer Dai Fujikura reveals the process of a composer's "birth" and uncovers the background of how an artist operates as a freelancer in constantly changing conditions of both personal and professional life. The ongoing case of Matej Drlička stepping down from his role as the general director of SND, particularly in light of the issues at the Opera, is still relevant due to his re-candidacy. Therefore, the testimony of baritone Dalibor Jenis, who after more than a year decided to reveal the circumstances of his departure from his role as the artistic director of the SND Opera, cuts deep. Clarinetist Ronald Šebesta invited his long-time collaborator and friend Mariana Lejava for a chat, discussing his busy program last year and the overlap between conducting and composing professions. An interesting duo is created by the interviews with organist and choir master Viliam Gurbaľ and Michal Paľko from Mojše Band. There are many parallels between the work of a church musician at the St. Elizabeth's Cathedral in Košice and the leader of a band that revives the legacy of Jewish music. We asked Vilém Spilka from JazzFest Brno, who has an unprecedented budget by our standards, how a major jazz festival is created in the Czech Republic.
Dear readers, this year we have two major changes in store for you. In our next, March issue, you will meet with a new design, which we will introduce in more detail on page 13. After more than twenty years in mostly the same attire, Music Life deserves a formal shift. However, an even bigger step will be taken in the second half of the year when we launch the online version of the magazine. Of course, we will continue to prepare the classic printed format for you. Although the pressures to give up printed media are increasing, we are steadfastly resisting. Whether we will be successful in this endeavor, however, also depends on you. Therefore, we thank you for not only reading but also purchasing our magazine.
Andrea SEREČINOVÁ