Fuga Perpetua
Friday 15. 11. 2019 at 19.00
Elektrarna Piestany
Staničná 2334/51, Piešťany
Show on the map
Performers:
Meitar Ensemble (IL)
Hagar Shahal - flute
Jonathan Hadas - bass clarinet
Moshe Aharonov Sarouk violin
Yoni Gotlibovitch - cello
Amit Dolberg - piano, artistic director

Tychonas Michalidis sound
Michele Innocente video & lights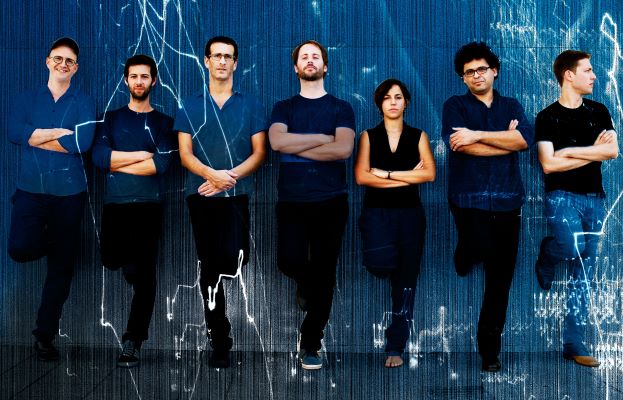 Meitar Ensemble © web Meitar Ensemble
i
Fuga Perpetua by Yuval Avital
With the sponsorship of UNHCR and of the International Theatre Institute, UNESCO
Performed by Ensemble Meitar:
Amit Dolberg - Piano, artistic direction, Yoni Gotlibovitch - Cello, Moshe Aharonov - Viola, Gilad Harel - Bass clarinet, Hagar Shahal - Flutes
Sound direction and 'Mobile Sound Theater' developer - Tychonas Michalidis
Video post production and light - Michele Innocente
Scientific advisor - Gerald C. Cupchik, University of Toronto!
Additional filming in Kenya - Andrea Trivero
Coordination filming in Kenya - Qaabata Boru
Additional filming in Israel - Yoav Ruda (Hasimta Athletics runners)!
Coordination of interviews in Israel - Ensemble Meitar
Additional video and audio contributes by UNHCR
Production: Magà Global Arts (Italy), Third Ear - Ed McKeon (UK)!
in co-production with Teatro Comunale "L. Pavarotti" Modena, Italy, Brighton Festival, Nottingham Lakeside Arts Centre
Commission: Ensemble Meitar & Third Ear
With the sustain of England Arts Council, Arts & Humanities Research Council
Under the endorsement of the International Theatre Institute, Unesco
In collaboration with Pacefuturo Onlus (Italy), Birmingham Conservatoire (UK), Integra (UK), KANERE - Kakuma News Reflector (Kenya), Hasimta Athletics (Israel), Municipality of Milan department of social politics.
We thank: Carlotta Sami & Barbara Molinario (UNHCR Italy), Edith Champagne & Médéric Droz-dit-Busset (UNHCR Video unit Geneva), Duke Mwancha (UNHCR Kenya), Dianne Skerritt, Rainbow Project, Diocese of Southwell and Nottingham.