Quasars Ensemble
Wednesday 11. 11. 2015 at 7 p.m.
Slovak National Theatre New Building
Pribinova 17, Bratislava
Show on the map
Works:
The Raven, monodrama for mezzo-soprano and 12 players (2011–2012)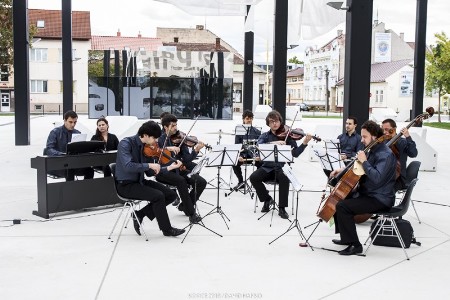 i
A monodrama based on the celebrated poem by Edgar Allan Poe, whose imagination has inspired a number of composers. The task, however, is tricky: both Debussy and Sibelius failed when setting Poe's imagery to music. One of the reasons of Toshio Hosokawa's success is that he contemplates Poe from the angle of his own culture – the dark, symbol-laden dialogue between a man and a large black bird is transferred to the context of the Japanese traditional No theatre. Yet, the context is somewhat altered: Hosokawa deliberately breaks the convention by introducing a female main character (contrary to Poe's poem and principles of the No theatre)...
This unique stage work was premièred three years ago in Brussels with the Swedish mezzo-soprano Charlotte Hellenkant in the main role. The Slovak première of The Raven features Eva Šušková, one of our most experienced singers in the domain of contemporary music, accompanied by twelve members of the Quasars Ensemble.
Tickets:PREDPREDAJ.SK