Mucha Quartet
Sunday 08. 11. 2015 at 5 p.m.
Slovak Philharmonic Concert Hall
Palackého 2, Bratislava
Show on the map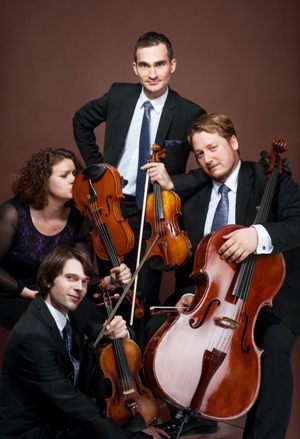 i
Slovak premières of recent string quartet pieces by two remarkable composers from the Anglo-Saxon world, performed by the most agile Slovak string quartet of today.
Thomas Adès proved to be a master of the genre in his Arcadiana already in 1994, and his Four Quarters(2011) provides another shining example of his capacity to write music that has both complexity and audience appeal. Composed only a year before, Clouded Yellow byMichael Gordon, the co-founder of the legendary New York Bang on a Can festival, was created to a commission by the Kronos Quartet. Its rhythmic pulsation and harmony openly reveal the author's "non-classical" inclinations. This creates a possibility of an interesting confrontation with the freshly composed works by two Slovak contemporaries to Gordon and Adès respectively ‒ Peter Machajdík and Ján Zach.
Tickets: PREDPREDAJ.SK