Het Collectief
Thursday 12. 11. 2015 at 7 p.m.
Small Concert Studio of Slovak Radio
Mýtna 1, Bratislava
Show on the map
Performers:
Het Collectief (BE)
Wibert Aerts - violin, Julien Hervé - clarinet, Thomas Dieltjens - piano, Toon Fret - flute, Martijn Vink - cello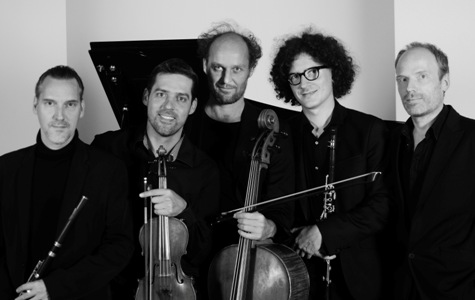 Het Collectief, fotocredit: E. Maes
i
Het Collectief is a prominent group of artists in the rich and diverse contemporary music scene in Belgium. This quintet of top-quality instrumentalists is not typical of ensembles focussed on contemporary music: their exceptionally wide-raging repertoire includes a good deal of the music of the classics, from Bach to Bartók and Messiaen. Piano, flute, clarinet, violin and cello is a line-up that enables unusual flexibility; their wide scope in style is simply another confirmation of the universality of this 'collective'.
One of the constants for this ensemble is the fact that, where contemporary music is concerned, alongside Belgian composers they give considerable space to those of central and eastern Europe. It is this Belgian-Baltic-Slovak spirit which will animate the Bratislava concert by Het Collectief.
Tickets: PREDPREDAJ.SK