Melos Ethos Ensemble
Tuesday 10. 11. 2015 at 7 p.m.
Moyzes Hall
Vajanského nábrežie 12, Bratislava
Show on the map
Works:
Liebeslied for eight instruments (2010)

Da capo for solo cimbalom and ensemble (2013–2014)

Le Voyage, monodrama for actor, six-part vocal ensemble, four instruments and electronics (2011–2012)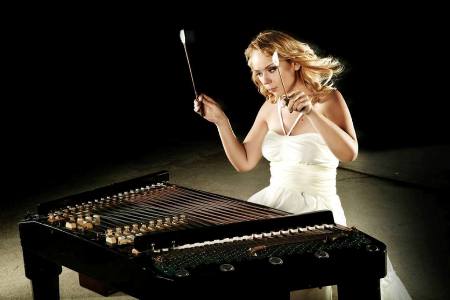 i
In da capo (2013–2014) Péter Eötvös chose nine fragments from Mozart's sketch books and created out of them a fresh, surrealistic allegro. The role of the virtuoso solo instrument is, oddly, given to the cimbalom. Can its characteristic sound blend with Mozart's style? The phenomenal Enikő Ginzery with members of the Melos Ethos Ensemble will try to find the answer in this brilliantly scored and witty composition.
One of the two monodramas presented on this year's festival is Le Voyage (2011–2012) by the Austrian composer Johannes Maria Staud. It is based on Charles Baudelaire's eponymous poem, and in many ways it can be compared with Hosokawa's The Raven, programmed for the next evening. Two works created almost simultaneously, two poets linked by a variety of correspondences...
Tickets: PREDPREDAJ.SK