Serge de Laubier & Electronic Joystick Orchestra
Saturday 07. 11. 2015 at 7 p.m.
Main Square
Hlavné námestie, Bratislava
Show on the map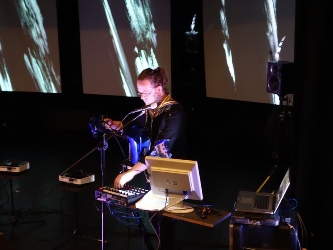 i
Serge de Laubier is a composer, researcher and musician, and is the artistic director of Puce Muse. Having been trained as a composer as well as an acoustician at the National School of Louis Lumiere, he has been charged with the developement of the computer-assisted lutherie until 1998 in association with the Musical research group (GRM) of the INA. It is with Puce Muse that he co-invents the Spatial Octophonic Processor (trademark n°8600153). He is also the inventor of the Meta-Instrument and the creator of software MIDI Formers (© INA-GRM) which received frst prize at the international music software contest of Bourges in 1996. He has won numerous awards, notably the FAUST d'OR 1992 the Grand Prize of the Festival of Video Art of Locarno 1994, the frst prize in composition of the internation competition of Bourges 1995, the special jury prize of the SATIS 2001. His last creations were produced with André Minvielle, François Rancillac, Uriel Barthélémi, Kristof Hiriart, François Bayle...
BRATISLAVA 360
Settled in the center of the site, the public is immersed in the image and the sound. It is an invitation to transform and to re-enchant the everyday life. The video images are calculated and thrown from the architecture of the site to give to the concert a unique and short-lived dimension. Beyond the playful aspect, Bratislava 360 transforms the facade of the City Hall of Bratislava. It questions the boundaries between the virtual and the corporeal. Before and after the concert, the public is invited to dance or to move to interact with the images thrown on the City Hall. Bend over to tilt it, bend down fold up, to mash slowly arms to make it wave in rhythm with an electroacoustic music of Serge de Laubier.